Byrd Lockhart (1782-1839)
Byrd Lockhart and his younger brother, Charles, were two of the earliest surveyors in Arkansas (1815-1816). Prior to his time in Arkansas, he had been appointed surveyor for Madison County in Illinois in 1813. In the 1820s, he helped establish DeWitt's Colony in Texas working as a surveyor. He was allegedly the first Anglo to see what is now Caldwell County. In 1826, he was commissioned deputy surveyor and surveyed the lands around Gonzales where he built the roads from Bexar to Austin and Gonzales to Matagorda Bay in 1827. In April 1831, he was appointed surveyor general by Governor Jose' Navarro. At the outbreak of the Texas Revolution, he was serving as private under Stephen F. Austin when he was recruited by Captain James Fannin as a scout. Because of his knowledge of the area, he was dispatched to scout the area below San Antonio as well as recruit volunteers. By February 1836, he had formed the Gonzales Ranging Company of Mounted Volunteers and on March 1, they rode into the Alamo. Before the battle, he and Andrew Sowell were dispatched to find food and supplies to restock the garrison. They were delayed while trying to purchase cattle supposedly because of the locals' fear of the Mexican Army if they offered any assistance to the Alamo. Because of this delay, he was unable to return to the Alamo before the siege began on March 6, thus saving his life. After the Alamo, he would continue to serve in the Texas Army as a captain until his death in 1839. Lockhart, Texas is named in his honor.

Nicholas Rightor (1792-1841)
Nicholas Rightor first appears as a contract surveyor for the United States Government in the Missouri and Arkansas territories around 1815. You will see his name prominently in the surveys for the Spanish Land Grants and he is also credited with being the first surveyor of Texas. By 1820, he helped found and plat the city of Helena, Arkansas, which is currently the county seat of Phillips County. The county was named for his friend Sylvanus Phillips who was an early settler in the territory by way of Spanish titles. The city of Helena is actually named in honor of Phillips' daughter, Helen. By 1821, he left Arkansas to investigate Spanish land titles in Texas. While in New Orleans, he became good friends with Steven F. Austin, who commissioned him to explore and map the area between the Brazos and Lavaca Rivers. He would also explore the mouth of the San Jacinto River and by virtue of being stranded; he was the first settler of Morgan's Point along Galveston Bay. In 1822, he married Minerva Putnam in Natchez, Mississippi. They returned to Helena, AR, and had eight children. He died quietly at his home on August 18, 1841.

Note:The best man in his wedding was Jefferson Davis, the future President of the Confederacy.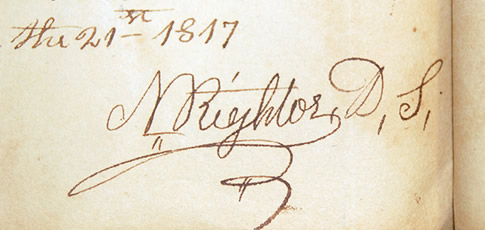 Nathan Boone (1791-1856)
Nathan Boone was the tenth and youngest child of the legendary pioneer and frontiersman Daniel Boone. Like his father, during his life he was an accomplished trailblazer, politician and soldier. In 1805, he opened a salt-making business with his older brother, Daniel. Although this operation didn't last long, this location would be known as Boone's Lick for many years. Boone's Lick Road, which was used to move their product, became the first major road in the Missouri Territory. After giving up the salt business, Boone turned to surveying for the federal government as a career. He surveyed much of what today are Randolph and Clay Counties in northeast Arkansas, including part of the Arkansas/Missouri border in 1825. However, he earned his reputation in his role as a soldier.

During the War of 1812, he raised and commanded a company of mounted volunteers later known as the Missouri Rangers. Boone and his Rangers patrolled the territory between the Mississippi and the Missouri Rivers building blockhouses for defense. As a result, he was cited for conspicuous heroism and resourcefulness. During the Mexican War he was commissioned as a Captain in the US Dragoons where he commanded fellow surveyor Enoch Steen (see above). He assisted in the capture of Santa Fe and briefly served as Military Governor of New Mexico and western Texas. During his career, he led numerous expeditions into Indian territories surveying and negotiating treaties. By 1850, he was commissioned as a Lieutenant Colonel of the Second Dragoons. Because of failing health, he resigned from military duty in 1853 and returned to his home on Femme Osage Creek near Ash Grove, Missouri, where he died October 16, 1856. This home site is now a State Park.

Note: In 1820, his famous father, Daniel Boone, died at his son's Ash Grove home on September 26 at the age of 85. That same year Nathan was elected as a delegate to Missouri's first constitutional convention.

Charles Lockhart (1790-1844)
Charles Lockhart followed his older brother, Byrd, to Texas and arrived at DeWitt's Colony with his family in March 1829. He assisted in laying out the 195-mile Austin to Bexar road and the road from Gonzales to Matagorda. He also surveyed and laid out the city of LaGrange, Texas.

David Deshler (1798-1871)
David Deshler worked as a government surveyor in Arkansas, Missouri and Kansas before becoming a merchant in St Louis. In 1825, he and his family moved to Tuscumbia, Alabama. Being a civil engineer, as well as a surveyor, he is credited with conceiving and building the first railroad west of the Allegheny Mountains. The line extended 2.1 miles from Tuscumbia to Decatur, Alabama, and was completed in 1832. Both of his sons attended West Point Military Academy. His son, David, died of an accidental drowning while a student there. His son, James, graduated in 1854 and rose to the rank of Brigadier General in the Confederate Army. He was killed at the Battle of Chickamauga by Union artillery fire on September 20, 1863. After the battle, Deshler went to the gravesite where he disinterred his son's body and brought it back to Tuscumbia for burial. At the time of his death in 1871, he bequeathed his home and the surrounding property as the site for a women's school to be named the Deshler Female Institute in honor of his son. James is also the namesake of Deshler High School in Tuscumbia.

Charles Bent (1799-1847)
Charles Bent was the son of Silas Bent who was appointed surveyor general of the Louisiana Territory headquartered in St. Louis in 1806. Charles and his younger brother, William, became well known mountain men in the 1820s and are credited with opening up the west to trade with the establishment of Fort Bent in 1833. Bent's Fort was located near what is now present day La Junta, Colorado, on the Arkansas River. It served as one of the most important outposts on the Santa Fe Trail providing trading with both Indians and trappers, as well as selling mercantile goods from back east. By 1835, he had established other smaller forts as trading posts in Santa Fe and Taos, New Mexico.

Now a wealthy merchant, Bent was appointed the first governor of the newly acquired New Mexico Territory in 1846 at the end of the Mexican-American War. Tensions were still high from the native New Mexicans who did not like being part of the United States resulting in the Taos Revolt. Governor Bent, who was living in Taos at the time, was murdered in his home January 19, 1847, just four months after taking office.

In 1976, Bent's Fort was reconstructed and is now a National Historic Landmark operated by the National Parks Service. Another interesting historical note is that he was a brother-in-law to another famous frontiersman, Kit Carson.

Enoch Steen (1800-1880)
After working as a surveyor, Enoch Steen joined the United States Dragoons in July, 1832, and spent the next 30 years serving on the frontier. He survived numerous engagements with the Mexican Army and Indians before eventually rising to the rank of lieutenant colonel. The Dragoons are considered to be America's First Regiment of Calvary.

As a captain, he served in the Mexican-American War where he was severely wounded at the Battle of Buena Vista on February 23, 1847. He received a commendation for gallant and meritorious conduct for his actions. After achieving the rank of major, he was assigned to the New Mexico Territory in 1849 where he was involved in the United States' first action against the Apaches. He was wounded a second time at Santa Rita del Cobre. Because of his experience, he became instrumental in negotiating a peace treaty with Mangas Colorado, Chief of the Mimbreno Apaches in April, 1853. He also negotiated an agreement in 1856 with Mangas Colorado's son-in-law, Cochise, chief of the Chiricahua Apaches, to allow settlers to cross their land while traveling to California. In Arizona, he helped establish Camp Moore near present day Rio Rico, Arizona, in 1857, and Fort Buchanan in 1858.

Later that year he commanded an escort for Lt. Edward Beale and his party who were surveying a road from Ft. Smith, Arkansas, to the Colorado River. Steen's Buttes are named in his honor in present day Caddo County, Oklahoma.

From there he led six companies of soldiers into Utah to extinguish the Mormon uprising. In 1860, as commander of the U.S. Dragoons, he was sent to find new routes into the Oregon Territory. He and his expedition were supposedly the first white men to explore the Donner and Blitzen Rivers where they were engaged by the Paiute Indians. A subordinate officer later wrote, "The Indians were defeated and their movements rigorously curtailed." Steen's Mountain and Stein's Point in Oregon are named in his honor.

Steen was forced to retire from active duty in September, 1863, for "incapacity resulting from long and faithful service, from wounds and injuries received, from disease contracted and from exposure in the line of duty."

Note: His son, Alexander, (born in 1827) served with him during the 1850s in New Mexico. At the outbreak of the Civil War he resigned from the regular army, returned to Missouri, and joined the Confederate Army even though his father remained loyal to the Union. As a colonel, he commanded the Tenth Missouri Infantry and was killed at the Battle of Pea Ridge in December 1862.

Enoch Steen's brother-in-law, William C. Rector, was surveyor general for the states of Missouri, Illinois and the Territory of Arkansas from 1814 to 1824. He was also the uncle of Governor Henry M. Rector of Arkansas.

Little or no information can be found on the early surveyors listed below. If anyone has additional information on these individuals or others listed in the index book, please contact Nikki Heck at the Commissioner of State Lands Office (501)324-9422.
&nbsp
Charles H. Pelham -He fought with the Kentucky militia in Pogues Regiment during the War of 1812 and later settled in Batesville, Arkansas. He was elected as the first Independence County Surveyor (1827-1830) and served on the first Board of Trustees for the Batesville Academy in 1836, which was the first incorporated institution of learning in Arkansas. Charles was the older brother of William Pelham who was appointed by President John Tyler as Surveyor General of Arkansas in 1841 and later appointed the first Surveyor General of New Mexico by President Franklin Pierce in 1854.

Gabriel Field-After leaving Arkansas, he served on the frontier with Colonel Henry Atkinson in Nebraska with the 6th Infantry and died of a leg wound April 16, 1823. He surveyed the area that now includes DeValls Bluff, Arkansas (Prairie County) in 1816.

Henry Cassidy-He was an early settler at Arkansas Post. He studied law in St. Louis and was admitted to the Arkansas Bar in 1814. He served briefly as judge and prosecutor for what is now Arkansas County. He surveyed much of what is known today as Cross and Poinsett Counties in 1816-1817.

Laurentius M. Eiler-He surveyed the area around what is known today as Jonesboro, Arkansas (Craighead County), as well as parts of Clay County in 1826-1827. He also surveyed the town of Carondelet, Missouri, in 1832, and Eiler Street in St. Louis was named in his honor in 1881.
Jennifer T. SpriggHe was a resident of Cape Girardeau, Missouri, and the first surveyor to document the landscape of the New Madrid area following the earthquakes of 1812. The Sprigg Journals are still widely used by both historians and surveyors. He later served as Captain of the Home Guards in the Blackhawk Wars in Illinois from 1831-1832.
Israel M. Moore-Originally from Philadelphia, Pennsylvania, he platted out and named many of the streets of Searcy, Arkansas (White County). He later donated the land that now houses Main Street Methodist Church and Spring Park. Moore Street was named in his honor in 1957. Also, he surveyed the area around what is now Star City, Arkansas (Lincoln County) in 1840.
Daniel Miller-No information other than he surveyed what is today the mouth of the Arkansas River where it flows into the Mississippi River (Desha County) in 1826-1827.
Henry Elliot-No information other than he surveyed along the Mississippi River including what is now the city of Helena, Arkansas (Phillips County) in 1816.